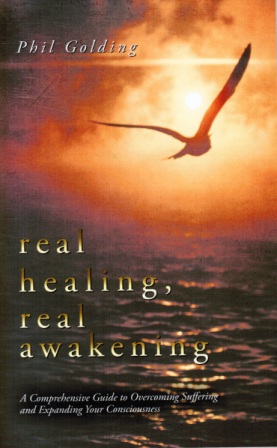 Real Healing, Real Awakening
A Comprehensive Guide to Overcoming Suffering & Expanding Your Consciousness

By Phil Golding
(Based on the Five Step Process)
372 pages
"Real Healing, Real Awakening" is a comprehensive self-help manual that draws on both eastern and western philosophy and psychology, as well as the author's personal experience of overcoming chronic depression and later as an experienced counsellor and psychotherapist.
The author, Phil Golding, has developed his own therapy process, which he calls the "5-Step Process for Emotional Healing, Wisdom and Empowerment". Phil uses this process as the foundation of his counselling and therapy practice and it is also the foundation of the book. The author uses this process as a way to uncover and awaken us to the fundamental causes of suffering and to highlight the essential factors that enable us to overcome our suffering and confusion.
As it states in the introduction, " All feelings or emotions can be traced back to two sources, Love and fear. All feelings that are beneficial, life enhancing and healing come from Love. All emotions that are detrimental, destructive and painful come from fear. Everything we think, feel, say and do in our journey through life is in some way an experience of these two opposing states of mind. The human experience of life is a constant pursuit of love and fulfilment and the fear and pain of not being able to experience love and fulfilment. We all want love and fulfilment. All too often though, fear and confusion invade our life, or we just get taken over with day-to-day survival.
"There is a way to break free of these limitations. There is a way to overcome fear and suffering. This knowledge, this truth, has persisted throughout the ages of human history in many different cultures. When this wisdom is understood enough and consistently applied to the way we think, feel and act, we naturally enter into a journey of emotional healing and increasing mental clarity as years of accumulated confusion unravel and fall away. As a result, an increasing conscious-awareness of our potential as human beings arises. Rather than just cope with the life that we don't want, conscious-awareness and the right knowledge awakens within us the ability to heal our pain and confusion and create the life that we do want."
Throughout the book, Phil highlights the importance or unconditional love and personal responsibility as the key factors of healing and awakening. Phil says that by accepting total personal responsibility to love ourselves unconditionally, we are able rise above our fears and insecurities and instead open up the potential of our higher-consciousness as a source of healing and fulfilment. This caring and empowering relationship with ourselves brings our mind into a state of peace, harmony, balance and clarity that enables us to enhance all other aspects of our lives such as relationships, parenting and career. The book provides a step-by-step practical guide to achieving this important milestone in personal development.
The book is targeted at those who want to make a real difference to their lives and who are ready to do the real work required to make that difference happen.
Throughout the book, practical exercises, summaries and affirmations are offered to enable the reader to genuinely enter into their own journey of healing and awakening. The reader can use this book on their own, or in conjunction with a mentor / therapist. The book can also be used by therapists as an aid to working with their clients.
For sales outside Australia, purchase at your favorite local online bookstore
Audio Podcast based on Real Healing, Real Awakening